I suppose it's fitting for my first old family story to be related to the photograph in my blog's header graphic.

It's a photo that's actually part of a circa 1918 filmstrip print from my great-grandmother Hedwig Postler's early 20th century photo album.
Pretty cool, right? Each frame is only 1 in. wide and .75 in. tall, so the whole print is just 4.5 inches long.
Unfortunately, there's no indication  in the album of what this is from. I doubt there's anything written on the back, but it wouldn't matter anyway because it's glued so well to the black paper page that I would most certainly destroy the photo if I attempted to remove it.
So… because I never heard any family stories about anyone in my family being a movie star (or even remotely involved in the movie industry), I have to use my deductive reasoning skills to determine what I'm looking at. Thankfully, Hedwig left me some clues. I know that the album itself was a gift from her friend because of the pencil inscription inside the front cover. It says "To Hedwig Schulz, From Elsie Doletzski, Jan. 15, 1920." I have no idea who Elsie Doletzski was or what she looked like, but from the date I assume that Hedwig received the album for her 20th birthday. The first half of the album contains photos mostly from 1918-1919, which makes sense.
I'm pretty certain, from her face, that the woman in the photo is indeed my great-grandmother. Six pages before this filmstrip appears in the album, there was a page with three curious photos that provide additional evidence. These two were side by side, and along the bottom across both was written "In memory of my motion picture days."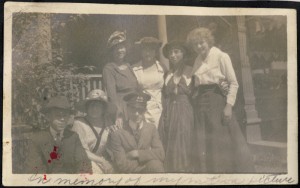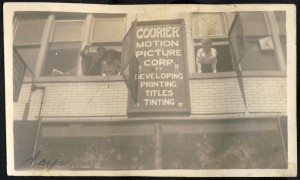 The handwriting is similar to other samples of Hedwig's, so I feel confident that she was referring to her own motion picture days. I don't think she's in either photo, though. The sign on the building looks pretty permanent and reads "Courier Motion Picture Corp. – Developing, Printing, Titles, Tinting."  I'm confused by this, though, because she lived in Detroit her whole life. I'm unaware of there being any motion picture studios in Detroit in the era of silent films… and I still haven't determined what exact year this was. More on that in a minute.
The third photo one is a larger group shot (of actors, I assume from their stance and formation) with a few ladies wearing a similar hat to the distinctive one that Hedwig wears in the filmstrip photos. I cannot tell if Hedwig is in this photo or if she took it.
I found two other photos of Hedwig where she is wearing that hat. One was not in the album, but in a mini presentation folder from a totally different collection of photos. It's one that I believe Hedwig had mailed to Arthur, her future husband, while he was living in Adams, Massachusetts in the early 1920s. (Hedwig's best friend married a man from Adams, MA, who set them up as pen pals.) It's dated 1918. Finally, a specific year!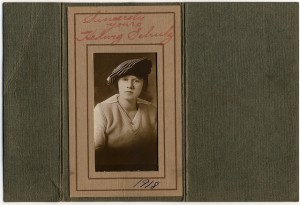 So here's what I've concluded about Hedwig's motion picture days: she participated in one film (probably as an extra, maybe just for one or two days) when she was 18 years old, possibly for a small and long-defunct motion picture studio in Detroit. She did have some connections in Buffalo, NY, and Adams, MA, so it's possible that she found her adventure somewhere along a journey to or from either of those cities.
I thought that was all of the information I was going to gather, but then I found another photo of her wearing that black and white beret in the same 1920 album. It's a cute photo, too, and I didn't really notice the hat during my casual viewings of the photo album. There's another little piece of information written on the bottom: May 1918.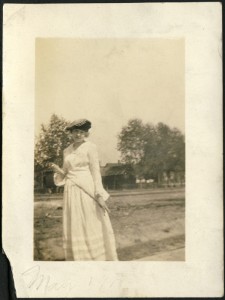 Though I still don't really know the full story behind Hedwig's adventures in motion pictures, at least I have a better idea after examining all the clues in my collection. I'm going to be on high alert for any other mentions of what she was doing in May 1918, as well as looking out for that unique beret in any photos I see in the future. Perhaps one of my aunts even has a diary or letter from that time period tucked away in a box… because otherwise this story remains mostly a mysterious anecdote.