After I posted the Massachusetts death certificate for Caroline Richter last week, my friend Barbara emailed me an extraordinarily helpful suggestion: try searching for her on ellisisland.org, the online home for Ellis Island immigration records. I was dismissive at first because I already had a copy of her immigration record that I'd found on ancestry.com. However, I registered for a free account and searched anyway. Why not, right?
GENEALOGY FACT: One should check every available source because you never know when you might get lucky!
Yes, I found the ship manifest for Caroline's original immigration in 1892. But there was one other result that surprised me… a record of her returning to the U.S. from Germany in 1923! All of the facts match up, so I know that this is the same Caroline who is my ancestor. (She's actually listed on line 18 but I edited the other passengers' information out of the image.)


This gem of a discovery is far more than just a record of her having returned to Germany. Proper sleuthing time… let's take a look at the facts!
Ship Information: The S.S. Reliance sailed from Hamburg, Germany on June 12, 1923 and arrived in New York on June 22, 1923.
Cabin class: Second.
The Basics: Caroline Richter, age 81, female, widowed. Widowed! That reduces the window of when her husband died by a few years. Now I know that Josef/ph died between 1910 and 1923. Also, she was 81 years old in June of 1923 but 88 years old when she died six years later in August 1929. Assuming those ages are both accurate, that would tighten the window of her birthday to the summer of 1841—somewhere from late June to early August.
Occupation: retired.
Able to read/write: Yes, in German.
Nationality: German
Race or People: German
Last permanent residence: Adams, Mass., U.S.A.
Name/address of nearest relative in in country whence alien came: son, Heinr. Richter, Adams, Mass.
Final destination: Adams, Mass.
By whom was passage paid: self
Whether in possession of $50, and if less, how much: $50
Whether ever before in the United States, and if so, when and where: yes, 1892-1922, Adams, Mass.
Whether going to join a relative or friend, and if so, name and address: son, Heinr. Richter, Adams, Mass.
Height: 5′ 5″
Complexion: Fair
Hair color: grey
Eye color: blue
Place of birth: Koenigswalde, Germany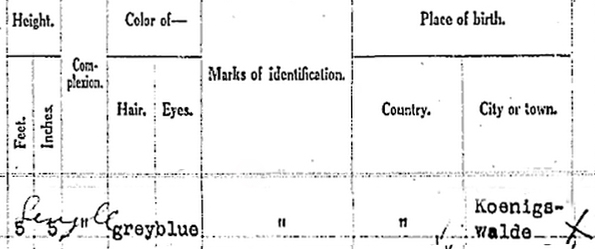 Woohoo! I know where she was born now! Well, at least it's a very good clue. Koenigswalde could refer to present-day Königswalde in Saxony, Germany, just outside of Annaberg-Bucholz, near the border with the Czech Republic. Or it could refer to the city that became Lubniewice, Poland after World War II. Then there's some disambiguation with a second Königswalde in the Saxony region which I found on the German site Digitales Historisches Ortsverzeichnis von Sachsen. I'll have to spend some time looking at microfilm at the Family History Library for more information. I still don't know her maiden name, but maybe I can find a marriage record for her and Josef by starting in the year of her oldest son's birth and going backwards.
That sounds like a lot of work. I'm open to suggestions for improving efficiency! (Barbara, I'm looking at you.

)
It's also interesting to know that my third great-grandmother Caroline looked was of average height with blue eyes and fair skin. Gray hair at age 81 isn't that surprising!
Armed with this new knowledge, I naturally have more questions about the stories hidden within the facts. Under what circumstances did Caroline travel back to Germany? A note written on her line in the manifest indicates that she left July 1922. Because I still don't know when exactly her husband died, I wonder if the catalyst for her journey was perhaps his death. She returned to the United States after eleven months, so she must have stayed with family during her trip. Her parents were probably already deceased, so who did she stay with? Siblings, cousins, nieces or nephews? Maybe someone from Josef's family? But did Caroline travel to Germany alone? Did Josef make the trip only to die in his homeland?
I'm going to need several more clues before I can start piecing together this particular old family story!