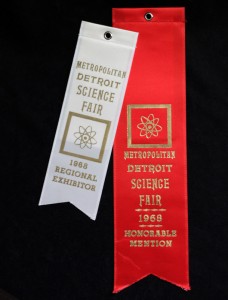 You should have seen the look on my face a few years ago when I found these two award ribbons tucked in among my grandmother's old photos! I fell in love with them as artifacts before I knew anything about them.
Both ribbons feature a simplistically cool atom logo and one of my favorite styles of vintage Art Nouveau typeface (Gable Antique Condensed, for any typography nerds* out there). They are from the same event: the 1968 Metropolitan Detroit Science Fair. The smaller white one (6.5 inches long) was probably worn by the exhibitor during the science fair, though I'm not positive because it's in absolutely perfect condition. The larger red ribbon (9.5 inches long) says "Honorable Mention" and shows wear on the bottom… but since the rest of it is also in perfect condition, I would guess that the frayed tips are simply a result of being stored in a box that was slightly too small.
The tags sewn on the backs of the ribbons were blank, so I didn't know right away which of my grandmother's nine daughters had earned them. But I discovered that Lachman & Company is still in business with headquarters in Detroit! Though their product catalog seems to have shifted to offer more high-end trophies than basic award ribbons these days.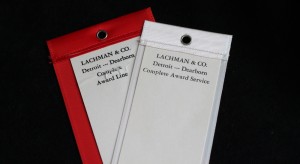 The ribbons were stashed among photos and negatives from the 1960s but with no other clues. (This all happened in the summer of 2008 when I was just starting to go through some of the stuff I'd inherited.) Doing the math of who would have been in high school or junior high at the time, I narrowed down the potential past exhibitor list to five candidates—four aunts and my mom. I made a mental note to ask my mom about them, but promptly forgot since my first goal at the time was to scan old photos.
Then, a couple days later, I stumbled upon a pretty major clue in the form of a photograph.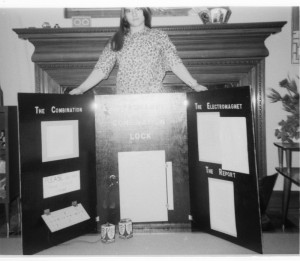 Hey! That's my mom standing behind a giant science fair display board!
I called her right away and she confirmed that she had indeed advanced to the regional level with her Electromagnetic Combination Lock project. I'm sure she told me about that at some point, perhaps around the time of my own ribbon-winning science fair days in middle school.  Maybe it would have stuck with me longer if I'd seen this photograph or her ribbons… but instead they were in hiding for forty years. I'm just glad that I know about all of this now.
The actual print of the above photo was somewhat washed out, but luckily it was one of the few for which I also have negatives. The scanned negative delivered an excellent tone (discounting the glare from the flash—I wonder which aunt is to blame for that?). Unfortunately, the negative is on 126 film (square, not rectangular) so the top and bottom were cut off by the 35mm film adapter that came with my scanner. Maybe someday I'll have some of the 126 film professionally scanned so I can get the whole picture.
In the meantime, Happy Mother's Day to my mom! I'm proud of you for the excellent work you did back in 1968. Your mom must have been proud of you, too, because she kept those ribbons in perfect shape. <3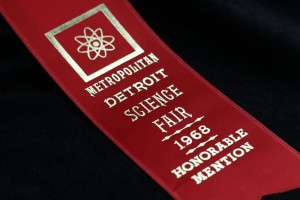 * Thanks to my graphic designer friend Sydney for researching the name of the typeface for me! Gable Antique Condensed was designed by the Bauer Type Foundry in Germany around 1900. I wonder if my German ancestry somehow influenced my fondness for it?