I'm happy to announce that I am now officially part of the GeneaBloggers community! Old Family Stories received its debut in their weekly roundup of new blogs.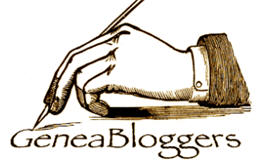 GeneaBloggers is a community for genealogy and family history bloggers and their readers. I noticed the GeneaBloggers badge in the sidebar of a couple genealogy blogs I'd started to read in 2011, and I'm so glad I clicked to see what it was all about. The concept of converging genealogy and technology is what drew me to RootsTech 2012. Toss my love of writing/blogging in the mix and BAM! No question that family history blogging, and its associated community, is right up my alley.
With so many questions already bobbing about in my head, it's good to know that there may be people who could (and would want to) help or at least commiserate with my frustration. I've already been inspired, located resources, and learned from others' examples by reading some of the GeneaBloggers blogs. A few relatives are interested in what I'm doing, as well as a local friend (Hi Barbara!), but I've had some moments when I felt like I was doing my family history research in a vacuum. It's definitely time to make some new internet friends! Hopefully I'll be able to offer some helpful advice of my own someday.
So I'm proud to place the GeneaBloggers badge in the sidebar of this blog and am looking forward to interacting with the community. Big Internet Kudos and thanks to its creator and curator, Thomas MacEntee!