Earlier this week I mentioned requesting death certificates from Michigan's vital records department to learn more details about my great-grandmother's parents. I'm still waiting  for information, and probably will be for a couple more weeks. In the meantime, I decided to look into my great-grandfather's parents, who were the first of my ancestors to immigrate to the United States in 1892.
My great-grandfather's name was Arthur Postler, born in 1895 in Plainfield, New Jersey to Paul Postler and Clara (Richter) Postler. Aren't they an adorable little family?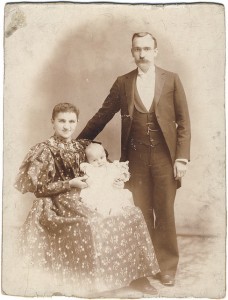 I was able to find the ship manifest/immigration record for their journey to New York from Bremen, Germany by searching for records on Paul Postler on ancestry.com. I was surprised and delighted to discover that "Klara Richter" traveled with him… as an unmarried woman, along with her parents, two brothers and a sister! I know that Klara is my Clara because I have a photo with her parents' names written on the back.

It really is good practice to look at the names around your ancestor's in a ship manifest, census record, etc. to see if there's anyone you recognize. Now, knowing that Paul Postler and Clara Richter were both unmarried at the time of immigration, the question is whether Paul was actually traveling with the Richter family or whether they met on the boat and developed a romance.
From my grandmother's handwritten notes, she understood that they were already married and traveled together from Germany. While that doesn't appear to be the case on record, the story does lend me to believe that they probably knew each other in Germany. One other bit of information in those same handwritten notes is that Paul's mother died when he was young, and that his father turned him and his siblings over to an orphanage. Paul was apprenticed to a tailor and that became his career. So at age 28, after having been raised in an orphanage, it's unlikely that he had much (if any) contact with blood relatives and would have been a good candidate to fall in love with a girl and move with her family to the New World. At least I always hope that there's love involved.
I'm going to ignore the brick wall of learning more about Paul's parents for right now and focus on Caroline and Josef Richter. I just so happen to have a photo of them tucked in among my treasures—dated 1892, I believe it is the oldest one in my collection.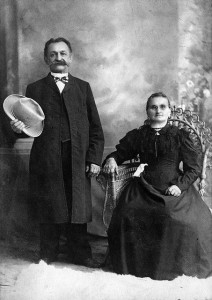 If the date written on the back is correct, this photo would have been taken the same year that they immigrated. Was it taken in Germany or the US? I'm not sure. I'm tempted to say the US because of the hat, but I'm not overly educated in cross-continental fashions of the late 19th century so it's just a guess. The Richters immigrated in November 1892, so maybe they had their portraits taken on the occasion of their first American Christmas. Or, because I have records that indicate they moved to Adams, Massachusetts pretty quickly after immigration, perhaps they presented this portrait to Clara when she left for (or stayed in) New Jersey with Paul. So many questions from little tiny clues!
Census records show that Caroline and Josef lived in Adams at least until 1910. I was able to locate an obituary for Caroline Richter's death (August 10, 1929) in the North Adams (Massachusetts) Transcript that provided some vital pieces of information:
Mrs. Caroline Richter, 88, widow of Joseph Richter, died early this morning following a brief illness, in the home of a daughter, Mrs. Paul Postler of 13 North Summer street.

Born in Germany, Mrs. Richter came here in 1892 and for a number of years resided in this town. Then she went to Holyoke to make her home with another daughter, returning here a few weeks ago.

She was a woman who was highly respected in the community and had many friends here who will learn of her death with regret.

She leaves a son, Henry Richter of North Adams, and two daughters, Mrs. Paul Postler at whose home she died and Mrs. Marie Gartner of Holyoke.

The funeral will take place Monday afternoon at 2 o'clock in her late home. Rev. C. O. Rundell of St. Mark's Episcopal church will officiate and burial will be in Southview cemetery in North Adams.
So… along with learning her other daughter's married name, I learned that she was Episcopalian! That's a good thing to know when I start searching through German records. But in what city or region would I start looking? The city of last residence on the immigration record is hard to read, but I think it's "Kunzendorf," a German city which may now be the city of Konczyce in Poland. Here's a 50 pfennig note from 1922 that is the basis for my assertion. There are a couple other examples floating around online as well.
Unfortunately, none of the several cities with or containing the name Konczyce are near Neurode, which is the last residence that Paul Postler listed on the form. Maybe Clara and Paul didn't know each other before the journey? Hmm. Getting sidetracked.
My point is that I do not know where Caroline Richter was born, nor her maiden name. I do at least have a 2-year period of time in which I could search, but that's not going to do me any good without the other information. Having a death date and location, though, makes it easier to confirm whether that information might be available on a death certificate. I can pretty easily request a copy of a 1929 death certificate from the state of Massachusetts, though earlier than 1921 and they get a little fussy. Finding a death certificate for Josef is going to be a little trickier anyway, since I have an 18-year range when he could have died. The next step for him, I think, is to locate his grave (which is probably in Southview Cemetery where his wife was buried) and hopefully find his death date.