My two-week trip to Michigan coincided with a massive heat wave and broken air conditioning at my cousin Madeleine's apartment. After two nights of miserable, sweat-soaked "sleep," my husband and I left my poor cousin (who is an amazing hostess) at the mercy of her apartment's maintenance staff and drove to Chicago for my high school best friend's wedding. Despite the record-breaking temperatures and intense humidity (which I've blissfully avoided since moving to Utah!), the outdoor ceremony was lovely. Thankfully the reception was indoors and our hotel's air conditioning worked the whole time we were there.
My family history adventures started after my husband flew home on Monday. With luggage in my rental car and my cousin unavailable until after work, I drove to Holy Sepulchre Catholic Cemetery in Southfield. My grandparents were buried there before I was born, but the only time I'd been to the cemetery was for my uncle Denis' burial in April of 2001. In fact, that's the only actual burial I've attended. Trips to see family in Detroit when I was a kid never involved visiting cemeteries, let alone funerals, so I was overwhelmed with that first experience at age 21.
Returning a decade later, I had no recollection of where exactly my grandparents and uncle were buried—just that all three were together. That was one of those details I meant to resolve before my trip but just didn't have time. So I called the cemetery that afternoon to verify their office hours and stopped in at their lovely little building for some information. A man at the front desk was very helpful and printed a custom information sheet/map for me straight from their computer system. I was impressed!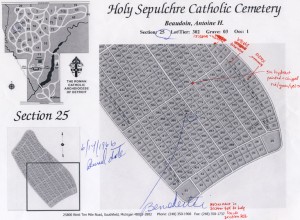 He circled a nearby plot to help me locate my family's flat headstones… so I set out to find the large Benedetti tombstone. (Oh, but I visited the restroom first, and passed a little seating area with a fireplace. I noticed a large Bible on the mantle that was identical to the one my parents received at their wedding! I remember being fascinated by the puffy white cover as a child.)
The cemetery was much bigger than I expected. I enjoyed the peaceful drive through lush foliage and found Section 25 without a problem. However, finding the actual graves proved to be quite the challenge. There wasn't a way to identify the lot numbers and no paths existed within the section like I'd inferred from the map. So I wandered in circles for a good 20 minutes—in the sweltering afternoon sun and icky sticky humidity—getting frustrated by the ineffective map and questioning my usually reliable spatial-temporal reasoning skills.
Eventually I spotted the Benedetti tombstone, and then my grandparents' graves.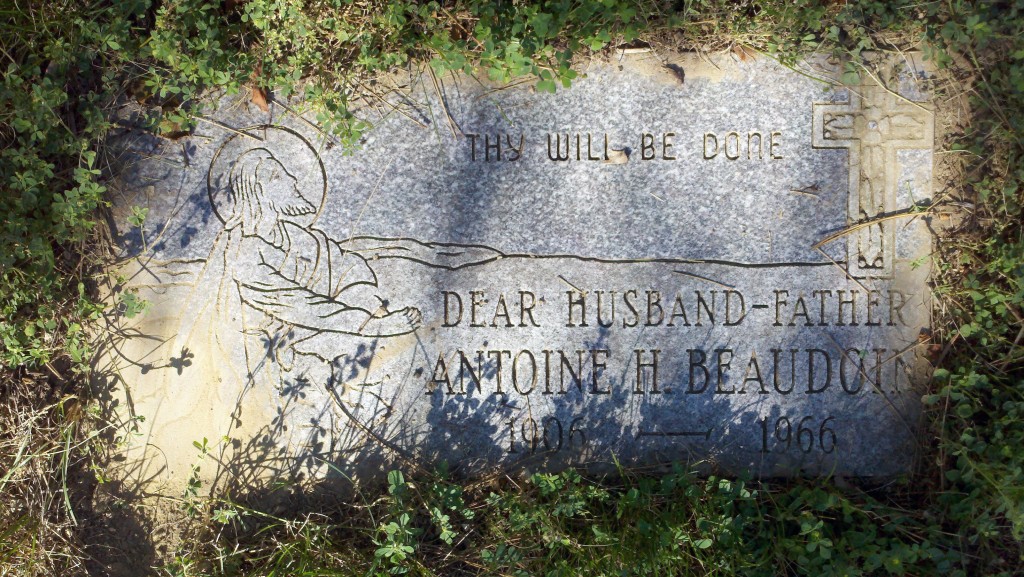 My uncle Denis shares his mother's grave. He never married.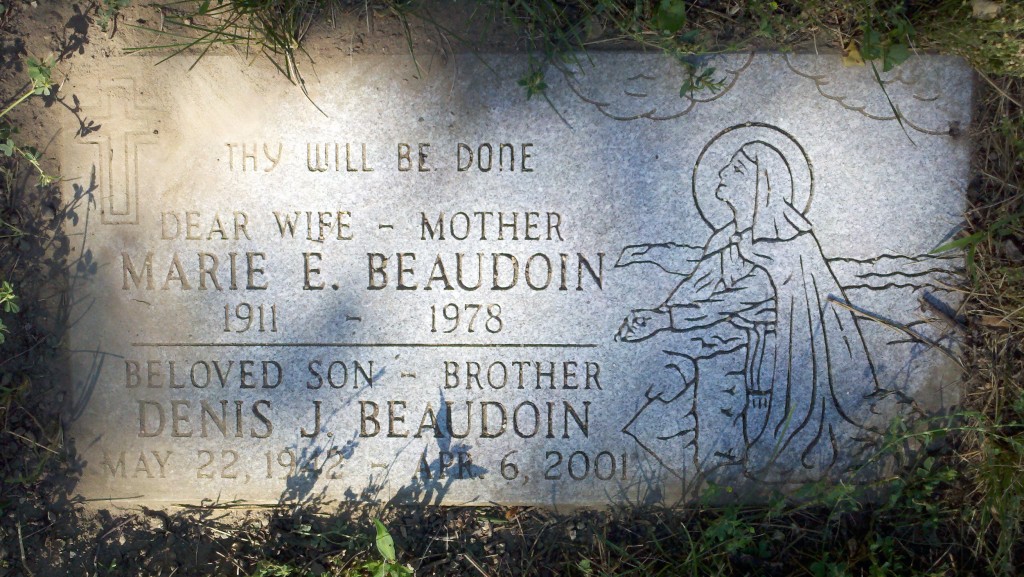 It was a strangely emotional moment for me. The heat and built-up frustration adding to the "aha!" feeling, perhaps. I was upset by the large patches of dead grass all around, wondering why the caretakers hadn't taken care to ensure that my relatives' graves were well-tended. Then I felt guilty (uh, raised Catholic, did I mention?) for not regularly tending to their graves myself. Prickly weeds, grass, and dirt threatened the edges; I did my best with bare hands to clear away what I could. I intended to return to do a better job and take photos with my good camera, but alas, I did not. I'm glad that I went ahead and took a few pictures with my phone.
Another advantage my camera phone provided was to document how to find these Beaudoin graves again in the future. I took photos from the burial site of nearby landmarks, and photos from landmarks of the burial site. I also made notes on the cemetery map (in red ink) with the names on the large tombstones scattered along the edge of the road. It's all about having the right coordinates!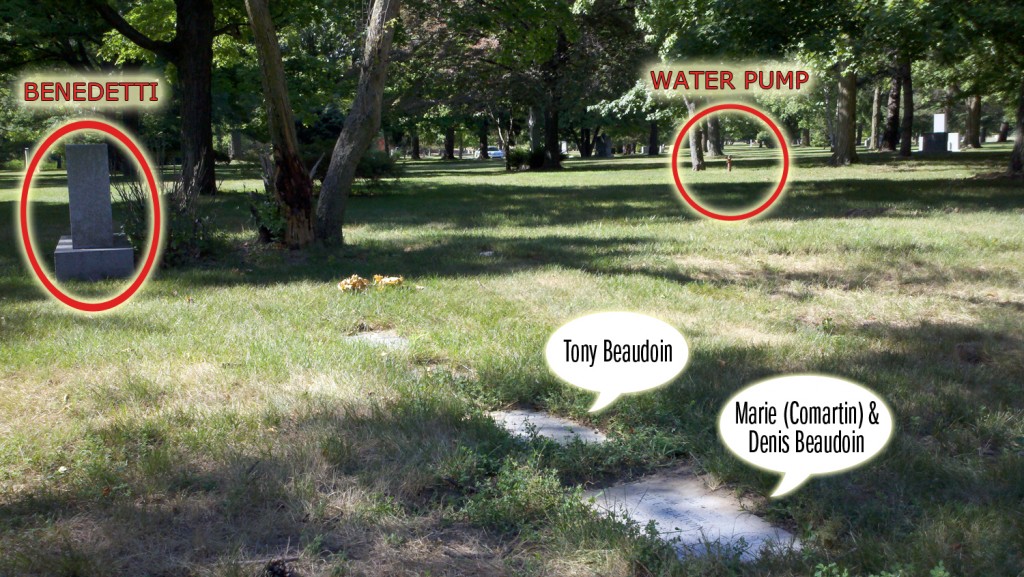 I won't have any trouble finding that elusive Benedetti tombstone next time. Also, I thought that the water pump was really cool with its many layers of paint in different colors.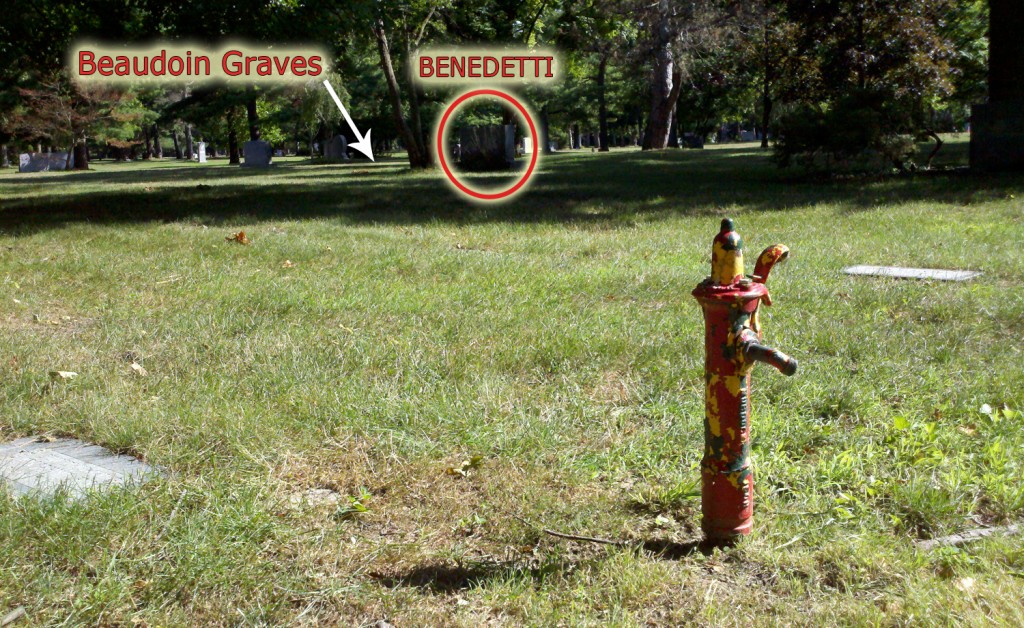 As I drove across the bridge on my way out, I noticed a white heron or crane perched in the riverbed. Most normal people would probably think to themselves, Oh, a bird, how lovely! and continue on their way. I am… slightly less than normal in that sort of circumstance. I stopped my car right there on the bridge and stared at the bird and the beautiful riverscape in the late afternoon sun. When another car started coming up behind me, I did what any amateur birder in my situation would do: yanked out my camera and pulled over to get a better look.
As I approached the bank through several yards of concealing foliage, I was surprised by the slow, graceful take-off of a bird I hadn't noticed from the bridge—with its gorgeous blue-gray coloring and large wingspan, I think it was either a Little Blue Heron or a Great Blue Heron. (Amateur birder, remember. Without binoculars or a zoom lens.) I only saw it for a couple of seconds. I took a few steps closer, not sure exactly where the white bird was in relation to me, and then it took flight and passed through my line of sight before I was ready with the camera. Bummer. I'm pretty sure it was a Great Egret.
I took a photo of the river anyway. The ducks (probably boring old Mallards… but maybe American Black Ducks?) didn't mind the attention. You can see the bridge, which I believe also serves as a dam, where it looks like there is a clearing.
Despite the heat and frustration in locating the graves, my visit to Holy Sepulchre was surprisingly restorative. I will share some introspective thoughts in another post.